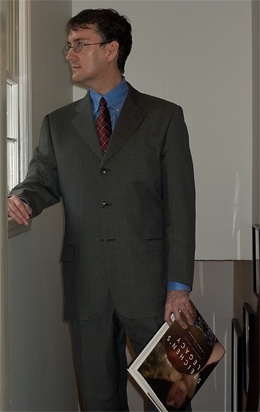 History
After receiving his M.S. in Computer Science from the University of Florida, Greg entered the workforce as a software developer. One day in 1996, while bored in a computer training class, he fired up Microsoft Paint and began drawing cartoons to amuse himself and his friends. Encouraged by the results, he continued to develop his style and technique.
The Process
Now using Adobe Photoshop, Greg creates his pieces in high resolution, so that when the work is scaled down for printing, the results are smooth, not jagged and "computery". The digital medium allows him to incorporate hand-drawn elements with scanned and photographic images. The editing software permits the individual elements that make up the piece to be positioned and tweaked to form the overall composition. Greg then prints the resulting work on a photographic-quality inkjet printer onto photo paper, a blank greeting card, or glossy film, depending on the requirements of the piece.
Inspiration and Influences
Greg's work uniquely combines elements of humor, fine art, cartooning, graphic arts, photography, music, metaphysics, history, folklore, mythology, psychology, and quantum physics. Greg's ideas come from many places, from a passing thought to a misheard phrase. While some of Greg's work recalls that of Gary Larson's The Far Side, a bigger but less obvious influence is the work of Edward Gorey. Since humor is a consistent element through most of his work, Greg would be remiss if he did not credit Monty Python's Flying Circus for some of the absurdity he embraces.
Community Involvement
Greg has donated works to the Works of Heart art auction to benefit the local AIDS Service Agency, and urges all art lovers in the Raleigh area to attend this annual event held every October.

He is also an avid supporter of Raleigh's First Friday Gallery Walk, a monthly event where one can see art, meet the artist, and buy their work. The event is held on the first Friday of every month, and takes place in the Moore Square art district, and on south Glenwood Avenue.

Greg welcomes your questions and comments, and can be reached at info@gregorear.com.


Greg also has a blog, Spatter.
Shows and Venues
Greg's work has shown at the following locations:
Alliance of AIDS Services-Carolina, 324 S. Harrington Street, Raleigh, NC 27603. (919) 834-2437.
Brass Grill and Market, 210 S. Wilmington Street, Raleigh, NC 27601-1434. (919) 833-9595.
Cameron Village Regional Library, 1930 Clark Avenue, Raleigh, NC 27605. (919) 856-6710.
Capital City Club, Center Plaza Building, 411 Fayetteville Street Mall, Raleigh, NC 27601-1740. (919) 832-5526.
Carter Building, 14 Glenwood Avenue, Raleigh, NC 27603.
Coffee Café, U.S. 401 and Capital Boulevard Split, Raleigh, NC. (919) 872-8280.
Collective Arts Gallery, 8801 Lead Mine Road, Suite 103, Raleigh, NC 27615. (919) 844-0765.
Cotton Company Gallery, 306 S. White Street, Wake Forest, NC. (919) 570-0087.
Durham Art Guild, 120 Morris Street, Durham, NC 27701-3242. (919) 560-2713.
Glance Gallery, 311 West Martin Street, Raleigh, NC. (919) 821-2200.
Quail Ridge Books and Music, 3522 Wade Avenue, Raleigh, NC 27607. (919) 828-1588.
Red Pin, 121 Seaboard Avenue, Raleigh, NC. (919) 754-8006.
Vineyard Café, 3915 Western Blvd., Raleigh, NC. (919) 858-8700.
Visual Art Exchange, 325 Blake Street, Raleigh, NC. (919) 828-7834.
Greg has participated in the following shows:
January 2004: Donated art, Visual Art Exchange fundraiser silent auction (non-juried)
October 2003: Donated art, Works of Heart art silent auction (non-juried)
September 2003: "NEW (Never Exhibited Works) Show", Visual Art Exchange (juried)
August 2003: "It's All Wet", Visual Art Exchange (juried)
July 2003: "Heavenly Creatures", Visual Art Exchange (non-juried)
April 2003: "Let There Be Light", Visual Art Exchange (juried)
February 2003: Group show, Vineyard Café
February 2003: "In The Mood", Visual Art Exchange (juried)
October 2002: Donated art, Works of Heart art live auction (juried)
August-September 2002: Group show, Capital City Club
June 2002: "Something Borrowed, Something Blue", Visual Art Exchange (juried)
April 2002: "Spring Has Sprung", Visual Art Exchange (juried)
November-December 2001: Solo show, Brass Grill and Market
October 2001: Donated art, Works of Heart art silent auction (non-juried)
July 2001: "Hot!", Visual Art Exchange (juried)
May-June 2001: Solo show, Cameron Village Regional Library
October 2000: Donated art, Works of Heart art silent auction (non-juried)
September 1999: Guest artist, Carter Building studios (juried)
Awards
August 2003: "Trojan War" awarded Honorable Mention